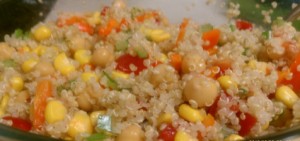 Since I have come to learn about this little seed. I loved buying Quinoa Salads at my local farmers market. You should have known it would only be a matter of time, before I got tired of paying for it and would make my own version. This makes for a perfect hot summer dish as the only cooking you will be doing is for the quinoa.
Here is what you will need:
1 cup uncooked quinoa
3 green onions or more if you are an onion fan
1 bag of sweet peppers*
2 tbsp or 1/2 Lemon
2 tbsp of extra virgin olive oil
1 cup of corn, frozen thawed ok
1 15 oz can of Garbanzo beans
1 handful of sweet cherry tomatoes
1 tsp of basil, sage or any type of herb will do
Braggs amino acid (optional)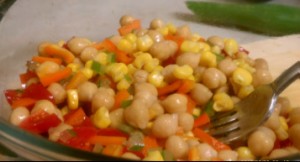 Cook quinoa according to package instructions. Then place in the freezer. This will slow the continued cooking process that quinoa tends to do. No more over cooked, mushy quinoa! While quinoa is cooking rinse and drain your garbanzo beans, dice your tomatoes, peppers and onions. Mix lemon, oil and herbs in a separate container. Combine all ingredients in a big bowl once quinoa has chilled.
I will admit this recipe lacks salt. I personally like to let everyone add Braggs Liquid Amino Acids to taste once they have been served. This will allow for personal control over their sodium content.  I didn't want to use  regular or sea salt. At the last minute I decided to try out Braggs. perfecto
*I could not find organic peppers so I bought a bag of organic sweet baby  peppers and just picked out of my favorite color. In this case all the orange ones