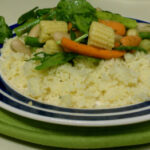 Asparagus is something I have learned to like if it was cooked properly. This is only the second dish I have enjoyed eating with asparagus as one of the main ingredients. There are several ingredients which may not be common in your kitchen. However, they are easy to find at your local grocery or big box store. The portion size for this meal is quite substantial; it serves four. You will be full, even without meat. If you need to have some extra protein with it, I suggest tilapia seasoned with garlic pepper seasoning.
Asparagus Primavera with Couscous
Ingredients
1½ cups of dry whole-grain couscous
1 lb asparagus
8 oz carrots, cut down to matchstick size (you can also purchases them cut this way in the produce section)
4 oz baby corn, cut to bite sized pieces
15 oz can of white beans (I used Cannellini beans, however any white bean will do)
2 cups of fresh baby spinach, cut into strips
2 tbsp extra-virgin olive oil
2 tbsp champagne or white balsamic or apple cider vinegar (I use apple cider vinegar)
2 tbsp orange juice
1 tsp dried dill or 1 tbsp of fresh dill
Instructions
Cook the couscous according to the directions on the package. Then trim asparagus by cutting off the thick dense bottoms (tossing away) then cut the rest into thirds. Fill a pot with about 1 inch of water. Once boiling add your carrots and asparagus, reduce heat and allow to simmer for about 5 minutes. After allotted time has passed drain immediately. In a large bowl combine all wet ingredients, the dill, then add the corn, asparagus and carrots. Toss evenly, then serve over a bed of couscous. I like pouring a bit of the juices at the bottom of the bowl over top as well.
Notes
When mixing the wet ingredients together, the vinegar smell may be a bit overwhelming, I can assure you, while eating it the smell will not be so overwhelming.
Nutrition Information
Calories:
462
Fat:
10
Carbohydrates:
72
Sugar:
6
Fiber:
16
Protein:
21
*Recipe posted in May/June 2010 addition of "Clean Eating" magazine