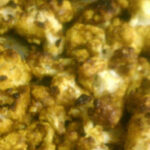 I found this recipe hidden in an advertisement for a particular brand of cashew butter. It seemed simple enough, plus I wanted a change of pace to my usual seasonings. The curry flavor is not overwhelming as I have found in a lot of curry flavored dishes. If you find the flavor still a bit to strong, you can easily adjust the amount of curry without changing the core of this dish.
Cashew Curry Cauliflower
Ingredients
1 head cauliflower, cut into large florets
½ cup of creamy cashew butter
2 tbsp extra virgin olive oil
2 tbsp curry power
¼ sea salt
¼ cup water
Instructions
Preheat the broiler. Your oven rack should be in the top portion of the oven so the cauliflower is about 3 – 4 inches away from the heat while cooking. In a large bowl whisk together cashew butter, curry powder, olive oil and salt. A enough water to mixture until you get pancake consistency. Toss the cauliflower in the curry mixture. Spread out cauliflower on a baking sheet and place under the boiler for about 8 – 10 minutes, until tender when pierced and golden brown.
Recipe derived from Nov/Dec 2011 Clean Eating Magazine