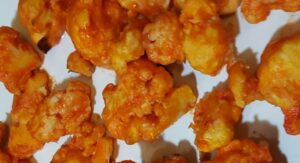 Since my last run in with Buffalo Bites, this recipe has taken the internet by storm. Just about everyone has their own version. Seeing how so many people were loving this dish, I just had to try it again. This time, it was a success! After reading tips and advice from several different blogs, I finally found a recipe that works. Yea, me! I even got a little fancy and used two different sauces. One sweet and the other spicy.
Cauliflower Buffalo Bites - Take 2
Ingredients
1 medium sized head of cauliflower
1 Tbsp of garlic powder (or less, I love garlic)
½ cup of flour
¾ cup of water
1 bottle of hot wing sauce (or make your own)
Instructions
Preheat oven to 450 degrees
Cut cauliflower florets into bite sized pieces
Combine garlic powder and flour in a large bowl, then whisk in water until you have a runny consistency.
Dip cauliflower in mixture, be sure to fully coat each piece.
Lay on a baking sheet and bake for 14 minutes
Remove from oven and allow to cool enough to handle
In a small bowl, dip each piece until full coated.
Return to baking sheet and cook for additional 5mins
Remove from oven and enjoy
Notes
I've noticed the bigger pieces the better they hold up during this process. The smaller pieces tend to get mushy.