There is nothing healthy about this cheesecake.

Which is why when I make it, I make sure it is for a potluck. Everyone would have eaten it before I have a chance to go back for seconds.
Ingredients:
2 cups finely crushed shortbread cookies (about 37 cookies)
4 tbsp butter
32 oz cream cheese
1 cup sugar
1/2 cup whipping cream
4 eggs
2 packages of caramel filled Hershey Kisses
Chocolate syrup
Caramel syrup
Directions:
Heat oven to 325 degrees. Mix crushed cookies and soften butter into a 13x19x2 pan. Firmly press into the bottom of the pan, being sure to cover the entire area. Bake for about 8 minutes or until golden brown.
In a large bowl beat cream cheese until creamy. Gradually beat in sugar and whipping cream. Add eggs in one a time, mixing each one thoroughly.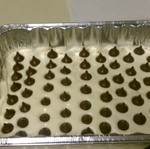 Pour about 1/4 of the batter over top of your shortbread crust. Then arrange your kisses on the bottom of the pan. Then poor remaining batter into the pan.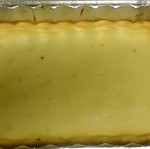 Cook for 40 – 50 minutes or until edges are set and center is slightly jiggly. Let cool for about an hour before placing in the refrigerator for a minimum of 4 hours.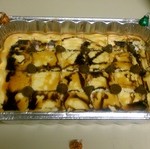 When you are ready to serve, garnish with caramel and chocolate syrup and a few extra pieces of candy.
Tips:
Works best if all ingredients are room temperature, except for the chocolates
Unwrap your kisses before you start and keep in a cool place. If your kitchen it extremely warm, store in the fridge until you are ready to us them.
When cutting your cheese cake, use a wet towel to remove the access. This will make for cleaner slices
You can use other candies, however, very dense or hard candies will not be as easy to bite or cut through
This one was cut to serve 24, you can however, cut them smaller to serve more
Let me know if this is not your new favorite Cheesecake.