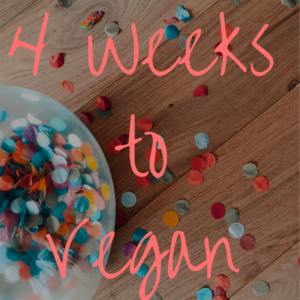 We have come to the end of this challenge! In just 4 short weeks you transitioned to a completely vegan diet. Now it's up to you to decide how much further you wish to take this journey. By design the ideas and dishes I shared were not too different from the norm. Now the question is, will you go further with veganism? Clean up your food options and a eat more healthy well balanced diet? Will you decide to eat just one meal a day as vegan? Perhaps you wish to return to eating dairy and follow more of a vegetarian diet. Or say forget this mess all together. Regardless of what you decide, I bet you surprised yourself at some point over this past month. While everyone was eating pizza & wings for the game, you had chips & salsa. I'd be willing to be you've felt your health improve and you may have lost a little weight too.
With the holiday's coming up don't put unnecessary pressure on yourself. If Thanksgiving is a huge tradition, then take the time to enjoy it. Perhaps limit your nonvegan food to just one serving. As I posted in a recent facebook post. You may end up being "that person", the one who brings their food to an event in to go containers. Maybe you can cook several vegan items to add to the buffet table. Or perhaps you will be adventurous and go all out an create an entire vegan meal complete with Tofurky.
Personally, I don' t follow any plan 100%. I eat what feels good to me at the time. Guaranteed when I'm in New Orleans, it is a must that I get a shrimp po boy. 90% of the time I follow a plant based/vegan diet. I do avoid all pork and dairy as I do not consider either fit for human consumption.
Let me know how this experience was for you. What is your next step? Sign up for newsletters and follow me on social media for fresh recipes ideas.