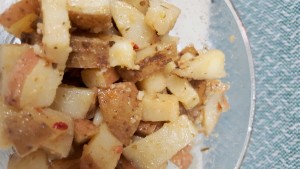 Here in the Deep South, Summer has yet to relinquish it's hold. We are still a few weeks away from consistent cooler temps. Now don't get me wrong, I love having an extended Summer. When it is warm I try not to cook in my oven. This adds a bit of question as to how I prepare one of my favorite foods. I don't know if I've mentioned it before, but I love potatoes. Potato is the answer to the question of name the food if, forced to eat everyday the rest of your life you could survive on. Fried, mashed, baked, soup, twice baked, hash browns, tater tots, scalloped, sliced thinly and fried (also known as potato chips) and raw. Yes raw, they have a starchy sweetness about them that I adore. Since, I don't do much frying these days, roasted is my second  favorite method. But what to do in warmer months?  My small kitchen become one big hot box. <Music please, spot light appears> In steps my trusty crock pot. Prepare potatoes as you would for the oven. Then throw them in the crock pot. After 1.5hrs. Perfectly Seasoned Potatoes will emerge, without creating a sauna in your kitchen. Here is one of my favorite recipes below.

Crockpot Roasted Seasoned Potatoes
Prep time:
Cook time:
Total time:
Roasted Seasoned Potatoes
Ingredients
Potatoes as many that will fit into your crockpot. 3-5 Russet/5-7 Red
Seasoning Salt
Garlic Powder
1 clove fresh garlic
Onion Powder
pinch of Chipotle Powder
Italian Herb Mix
Oil
Instructions
Turn crockpot on high. Wash and cut potatoes into bite size pieces. Dress with seasoning and oil then place in crockpot with lid.