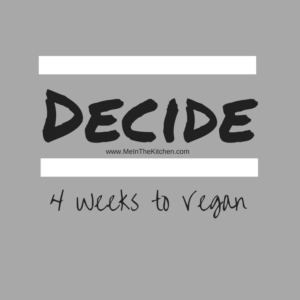 If you've ever reached out to me before and asked "how can I go vegan" or "how can I improve my health" this series was put together with you in mind. This will be a step by step, 4 week plan with recipes, tips & ideas. At the end of 4 weeks you can decide if this is something you wish to pursue further. You won't be going cold turkey (bad pun intended). You will gradually step up to your last week being completely vegan.
First step is  you must decide. No seriously, you must make it up in your mind that this is something you want to do. Go all in for the next 4 weeks. Because you will be tested over the next 30 days. Everyone will want to buy you lunch. They will bring donuts to work for breakfast. You will get asked out on a date for the first time 3 years. Your BAE will finally cook your favorite meal. But stick to your guns you will do great.
In general I'm not one that believes in wholesale changes as it pertains food and diet. We have such strong emotions tied to food. It can sometimes be hard to break away from. But, if you are still reading this you are at least considering it and open to making a change.
Here is the weekly schedule. As the weeks progress we will add another vegan meal to your day. By week 4 all of your meals will be vegan.
For the purposes of this 4 week challenge  the term vegan will be defined as, no eating of animal based products. Meats, poultry, dairy, seafood, cheese and eggs will be off limits. I'll go into further details as the week progress. However, this program is designed for you to slowly change your eating habits. Example during week 1, you are only expected to eat a vegan breakfast. The remainder of your meals you are free to eat whatever you like. Week 2 you are only expected to eat vegan for breakfast and all of your snacks. Eat whatever you like for lunch and dinner.
Be sure to follow me on social media and sign up to receive my newsletter so you don't miss any updates. I'll be providing tips and encouragement along the way. Message me, let me know if you are ready to get started.
Tagged: 4 weeks to vegan, black vegan, easy, going vegan, no meat, vegan, what the health, wth