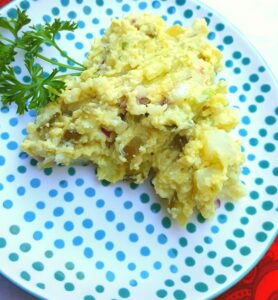 Awhile back I decided to make this amazing Chickpea Salad Sandwich posted by TheChicNatural, starting at the 1:54 mark. After making her vegan mayo, I wanted to see what else I could use it with. Seeing how I have a long-standing love-hate relationship with mayonnaise, I decided to slightly remix her recipe and use it for my potato salad. Can you say "Winner Winner Chicken Dinner"! I think I may prefer this to the real thing. See for years I would make potato salad with a bit of apprehension as the smell of mayo makes me gag. Deviled eggs were another item that I loved to eat by hated to make as these too are traditionally made with mayonnaise. My take on her recipe uses cashews, yellow mustard, water, parsley, and banana pepper juice (yes, juice from a jar of store-bought banana peppers)
Potato Salad
Author: Chef Ria
Prep time:
Cook time:
Total time:
Ingredients
1 lbs potatoes – I used white, red & yellow
1/2 cup Vegan Mayo – more or less to taste
1 Celery Rib chopped small
1/4 Red Onion chopped small
1 Dill Pickle chopped small
1 – 2 garlic cloves chopped small
Yellow Mustard to taste
Salt to taste
1 cup raw unsalted Cashews
1/4 yellow mustard
1/4 water
1/4 banana pepper juice
Handful of fresh parsley optional
Instructions
Place cashews in a container of water and allow to soak for at least 2hrs.
Diced potatoes and boil until soft (a fork should be able to pass through the center with ease). About 20 mins
While potatoes are boiling make the dressing by combining cashews, 1/4 mustard, 1/4 water and 1/4 banana pepper juice and parsley in your food processor until creamy.
Once potatoes have cooled, combine with remaining ingredients in a large bowl then refrigerate to allow flavors to meld.
Serve once chilled.
Notes
For those who prefer a sweeter potato salad, swap out sweet pickles or relish for dill pickles and add sugar to taste. Mayo can be made in advance and stored in the refrigerator
3.5.3217