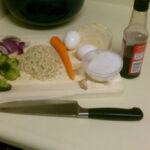 I don't know about your house hold, but at some point during the week I end up with a little bit of this and a little bit of that.  This is an easy recipe that can be changed to fit what you have on hand. This is just what I had on hand this day. I just call it left over stir fry.
Left Over Stir Fry
Ingredients
1 cup precooked broccoli
¼ purple onion
¾ cup precooked brown rice
1 small to medium carrot
2 large eggs
¼ head cabbage
1 garlic clove
1 tsp soy sauce
pinch of salt (optional)
Instructions
Heat large skillet on medium high with enough oil to coat the bottom of the pan. Once hot add the 2 eggs whole or whites only (your choice) and scramble. Since all other ingredients are precook (hence the left over part), add them one by one into the skilled until all ingredients are combined. Stir throughout cooking process. Once cabbage begins to wilt add soy sauce and salt. Total cooking time should be about 15mins.
The carrot for this dish is not precooked. In order for it to soften at the same time it takes the rest of the meal to cook; I chop them very small. They will be firm yet soft in your stir fry.
Notes
Fresh raw garlic can be a bit tricky to chop finely. If you notice it sticks to your knife. I use a sprinkle of salt when chopping to combat this problem. Just place your garlic on your chopping board, and before you start your fine chop, sprinkle with salt. Trust me it helps. They also make fancy expensive knives that should help with produce sticking to your knife, I'll stick to using salt.
Left Over Stir Fry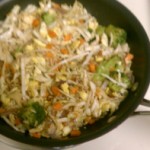 Prep time:
Cook time:
Total time:
Difficulty:

easy
Ingredients:
1 cup precooked broccoli

1/4 purple onion

3/4 cup precooked brown rice

1 small to medium carrot

2 large eggs

1/4 head cabbage

1 garlic clove

1 tsp soy sauce

pinch of salt (optional)
Directions:
Published on by Chef Ria