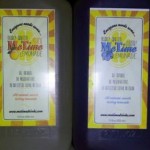 "Summertime and the livin' is easy, Fish are jumping and the cotton is high". That must be one of my most favorite songs to sing. Not saying I'm the best singer, but that has never stopped me. Just ask any of my friends.
Nothing goes perfectly with summer than tart yet sweet lemonade. One of my personal quests is to find less processed foods. I was pleasantly surprised to learn of a local startup brand of lemonade called Me Time. It has that perfect blend of flavors I've come to expect in a lemonade. The ingredients list short and simple just as it should be. Too bad I can only purchase via special request. However, if you live in the St. Louis area it is readily available at your local store. They are a growing company, looking to expand into Atlanta, GA and areas near you. Leave a comment below and let me know what are some of your favorite summertime treats.
I was no way compensation for this review. I am not associated with this company in any way.