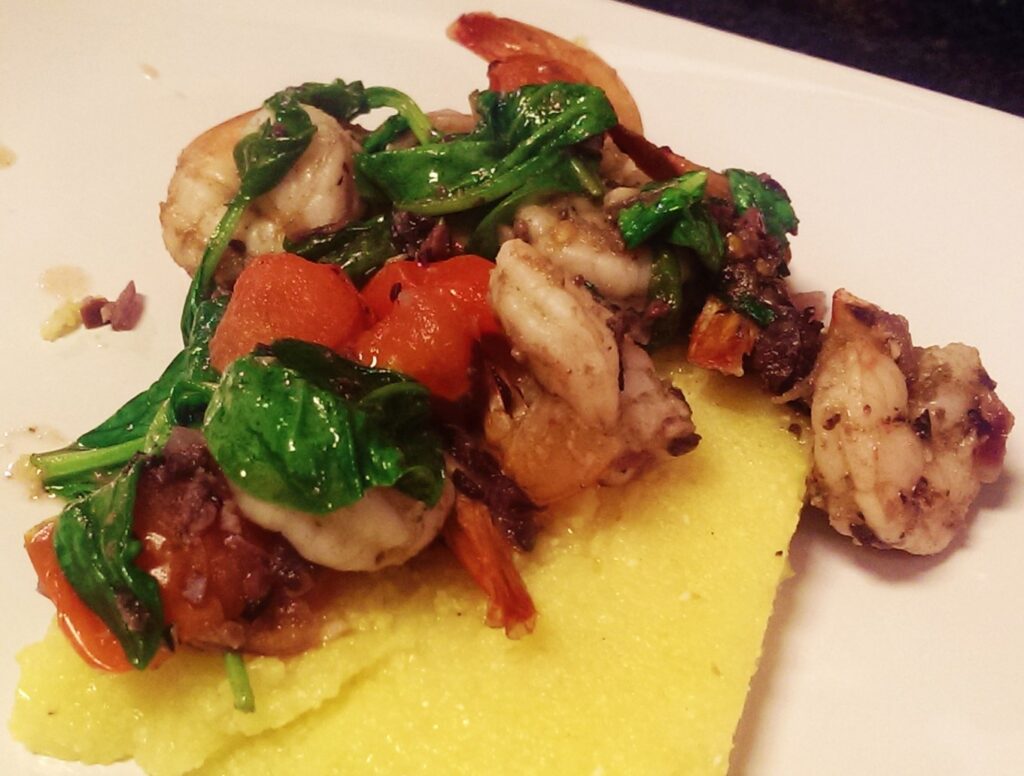 Not to long ago I completed reading a series of books by Dr. Mark Hyman, The Blood Sugar Solution, The Blood Sugar Solution Cookbook and The Blood Sugar Solution 10-Day Detox Diet . The basic premise of the books are that we are all one plate away from being diabetic, if not already diabetic. The books offer great advice and simple tests that can help you better identify what areas of your diet need to be cleaned up. You can see my full reviews of these books on my Pinterest page.  You can find the recipes I used in his books or on his webpage Mediterranean Shrimp here and Grilled Polenta here
I have another confession…WHY didn't someone tell me polenta and grits are pretty much the same thing?! All these years I have shied away from making polenta. I really thought it was something extra special and difficult to cook. I think about how growing up, once the grits were cold and stiff, they were tossed out. However, I now see this is the start of making polenta. Hermph, I had to sit back and laugh at myself. That goes to show you, you should never be afraid to step outside your comfort zone.
My review and recipe tweaks:
Of course as much as I try, I cannot follow a recipe 100% exactly as it is written. I used more than salt & pepper for seasonings. I just went to my spice cabinet and used whatever I thought would add extra flavor. I can't be sure of everything I used, but I know I didn't use any extra salt/sodium and I'm pretty sure garlic was added (I love this stuff). Also, I don't care for olives, so I cut the amount used in half and diced them really small. The shrimp was heavenly, it was so plump and juicy. Given enough spinach this might be a complete dish all unto itself.  The polenta on the other hand left much to be desired. It was very much tasteless. Even with the help of the juices from the shrimp, I was not a fan. I would make the shrimp again and ditch the polenta.
What new dish have you tried lately?
I was not compensated for this review. All thoughts and opinions are of my own. I'm pretty sure the writers of this book have not clue who I am (yet). I will however be compensated if you chose to purchase any of their books through my affiliate links.
Tagged: 10 day detox diet, blood sugar solution, clean eating, cookbook, diabetic, diet, grits, non gmo, olives, organic, polenta, Shrimp, tomatoes