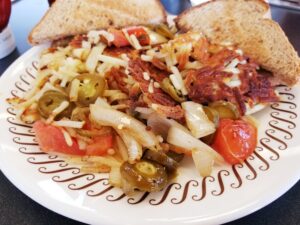 Tomorrow starts week 1 day 1. Have you started thinking of what you will be eating? Remember it's only breakfast for the 1st week. Here are a few of my  posted breakfast options within this blog. My all time favorite is the Breakfast Hash. Sunrise in a cup smoothie, No Bake Protein Nuggets and Peanut Butter Smoothie are great options as well. In my opinion breakfast is by far the easiest meal to make vegan. It's a good chance you already have vegan items in your pantry; cold cereal, oats, grits, fruit, veggies or bread.
With the kick off day being Sunday, I know this is a day many will eat out for breakfast/brunch. I've listed some tips to help you out at some of the breakfast chain restaurants e.g. IHOP, Broken Egg, Waffle House, Denny's, Cracker Barrel
While traveling my favorite is Waffle House, I can get a huge order of hash browns with onions, jalapones and tomatoes, non buttered toast with *honey (gasp…honey!) and a side salad. I swear the make the best potatoes of any restaurant. I'll admit the chain breakfast places leave much to be desired. However, I've had some delicious meals at my local or regional eateries. Usually any number of the breakfast skillet can be made vegan, taking out meat, dairy and eggs (haha, I can hear some of you now saying "there's nothing left"). Then add in more veggies.
Lastly Starbucks I promise I won't take away your coffee. Starbucks has got you covered. Admittedly, I'm not a coffee drinker as I prefer tea. Check out some of your options here.
If there is nothing here that makes you tummy rumble the do a quick search on "vegan options at" name of restaurant I'm sure many will come up.
Follow me on social media where I'll be posting some of my breakfast meals. Breakfast 1, Breakfast 2, Breakfast 3, Breakfast 4
Check out the following Week 2 Week 3 Week 4
*Honey is not considered vegan as it is food source for and made by bees. I however, will eat honey. You can easily replace honey with vegan approved liquid sweeter like maple syrup or agave nectar if you prefer. No judgements from me either way.
Tagged: hashbrowns, potatoes, vegan, waffel house, Waffle House