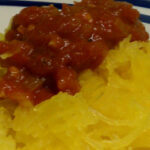 Just about everyone I know is trying to for one reason or another to limit the amount of carbs from their diet. However, no one is willing to give up their pasta fix. Many have touted Spaghetti Squash as the next best thing. I won't go that far, nothing can compare to good old flour, eggs and water (pasta). Anyway, here is my pretty simple tasty version.
Spaghetti Squash with Pasta Sauce
Ingredients
1 large 3.5 -4 lbs Spaghetti Squash
Extra Virgin Olive Oil (EVOO)
1 jar of pasta sauce or homemade sauce
Instructions
Preheat over to 350 degrees. While oven is heating, wash squash with warm water and cut in half length wise. This will require a good sharp knife and a bit of muscle. Once split open, remove seeds with a spoon. Lightly oil edges and inside of squash with EVOO then place face side down on a foiled lined baking dish. Allow to bake for 35-40 minutes or until tender. Remove from oven, handle one cool to touch. Using a fork scrape out the inside of the squash creating a stringy, spaghetti effect. Add your favorite pasta sauce and enjoy.