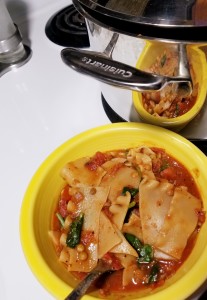 Always eager to try something new. I came across this one pot meal from Tasty for Lasagna Soup. I'm excited to try anything that requires less dishes. Plus I welcome the opportunity to change up my meals. Most of the ingredients are pantry staples or easy to come by, no odd or exotic ingredients.
My substations: One of these days I'm gonna follow a recipe exactly as written. Today is not that day.
I used Italian season instead of the dry basil & oregano. And I doubled the amount from 2 teaspoons to 4.
Used 5 cups of vegetable broth instead of 6.
Added a pantry full of other spices. The salt level was plentiful because of the broth.
A dash of sweetener to take the bite out of the acid from the tomatoes.
Cooked my lentils from 25 minutes instead of the 10. Not sure what kind of green lentils they use that cook down in only 10 minutes.
What would I do differently next time:
Use bite size pasta such as bow tie, fusilli, or penne. While make the dish I couldn't understand the need for lasagna noodles only to break them down later. Just avoid that step all together. As a bouns they are usually cheaper than lasagna noodles.
The next day this soup was much better as all the flavors had time to infuse. I can even see how this could resemble lasagna that fell apart on your plate. While I would make this recipe again, I'll just call it spaghetti.