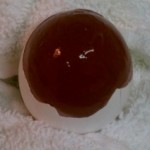 With Easter right around the corner, I could not pass up a post I recently read for making Jelly Eggs. While this was simple to make, I am not sure if I will attempt again. It was just a bit to tedious for jello and eggs. I can see how kids would love this in their Easter basket or finding them on while on an Easter egg hunt. Unfortunately, just like real eggs when it came time to peel off the shell, there were bits of shell and membrane stuck to the egg. It was no trouble to get it off, since jello is a bit slippy, it slides right off. You might however want to watch young children.
What you will need:
One box of your favorite jello flavor
5-6 large eggs
Directions:
Dig or poke a small hole in the bottom of the egg. They actually make a special tool for this very function, but a small sharp knife worked for me.  Drain the egg from the shell. Now you will need to clean the shell by rinsing well with cool water. You may wish to sterilize your shell a bit more. You can try using boiling water (after you have rinsed the shell clean with cool water, you don't want to risk "cooking" the small particles in the egg shell). Or you can trying using a mixture of vinegar and water. Mix jello according to the directions on the package. Transfer to an easy pour container. Fill the shell until full. Allow to set in the refrigerator  – Enjoy!
*If you are using a vegetarian type jello it will set faster than regular jello, please move quickly