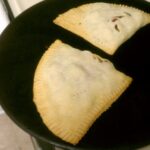 This is one of my favorite dishes to cook. It's fairly simple and looks impressive when serving to company. It does not require any fancy smancy hard to find ingredients. You can just about use what you have in your everyday kitchen. Trust me this is one recipe that will not disappoint.

Vegetable Empanadas
Ingredients
2 Zucchini
1 Onion
2 Potatoes
2 Tablespoons of Extra Virgin Olive Oil
2 Fresh or 1 15oz can Tomatoes
1 Teaspoon Crushed Red Pepper
Salt, Pepper & any other of your favorite seasonings
2 prepared pie crust
Instructions
Preheat oven to 350 degrees. Cut zucchini, onions and potatoes ½ inch pieces. Heat oil in a large nonstick skillet over medium heat. Add ingredients, occasionally stir for 10 minutes, or until the potatoes are tender. Add crushed red pepper and other seasonings cooking for another 5 minutes. Set to the side.
Cut each pie crust in half. Then spoon about one fourth of the vegetable mixture into the center of the dough. Wet your finger with water and dampen the entire edge of the dough. Fold the dough over and press all around the edges with a fork to seal. Cut a slit in the tops of the dough to allow steam to escape. Finally place on an ungreased baking sheet. Bake for 30 minutes or until golden brown and serve immediately
Tips:
These tasty little treats do not reheat well in a microwave. I suggest for saving time, prepare the stuffing ahead of time then assemble and bake when ready to serve.
I prefer the flavor of the fresh tomatoes over the canned ones. Plus they don't produce as much liquid, which cuts down the cooking time.
Don't be concerned with exact portions of your ingredients. If you have too much, you can always eat the next day as side dish.
You can make your own pie crust and freeze for this purpose
When using store bought or prefrozen pie crust, make sure the dough is completely defrosted before you attempt to use. Else they will rip and crumble.
Don't be afraid to add some your other favorite vegetables. This is one recipe that is difficult to mess up.
*Adapted from College Vegetarian Cooking cookbook