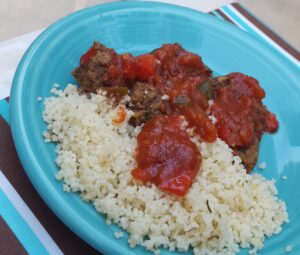 Just a quick post to show what is going with Me In The Kitchen this Thanksgiving. As I've stated in other posts, I don't typically cook a traditional Thanksgiving meal. I usually cook something new or something I've been craving for awhile. Like the one time I attempted to recreate my Grandmother's Yeast Rolls, which failed horribly. This year I decided to try a recipe for Meatless Meatballs from "So You're Dating a Vegan". Instead of pasta noodles I used couscous. Below you'll also find my quick and easy couscous recipe.
What I would do differently:
Nothing, I loved the "meat"balls. I would absolutely make this again.
My Substitutions:
Hot Pepper Sauce instead of Chili/Chipotle Chili
I started to make the marinara sauces the way they describe, but in the end, I made my sauce with the addition of pepper and onion mix.
Also in the video directions, they mentioned using 1/2 cup of COOKED lentils. I believe this was a mistake based on how little 1/2 cup produced and what the video shown. In light of this, I used the entire amount of 1/2 DRY lentils which produces about 3/4 COOKED lentils. Either way, I love my version.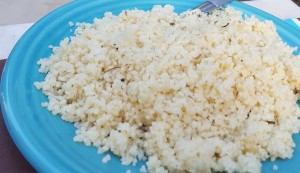 Garlic Couscous
Author: Chef Ria
Ingredients
1 Cup Couscous
1 1/4 Cup Water
4 Cloves Garlic
1 Tbsp Oil
1 Tbsp Italian Season
1 Tsp Sea Salt
Instructions
Bring water to a boil, add couscous, cover with lid, then remove from heat.
Let couscous rest for at least 10 minutes. *DO NOT REMOVE LID* This is the actual cooking step
In a separate skillet saute' oil, garlic, salt and seasonings
Mix garlic oil with couscous and serve
3.5.3208
*Updated to add clarification on cooked lentil amount