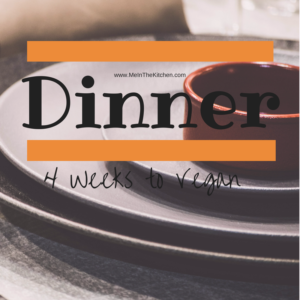 Breakfast + Snacks + Lunch + Dinner
This is it, you made it to week 4. This will be the first full week of eating every meal vegan. We've slowly cut out meat based products each week. This week I challenge you to try something new, you may find yourself getting bored with you food options thus far. Get over the idea that fake meats taste just like the real thing. They don't, but they are a good substitutes.  Tofu egg scramble does not taste exactly like eggs, but it is good (at least to some people, I'm not a fan). Lentil and Rice "meat"balls will not taste just like the ones your Nana used to make, but they are good in their own right. Give food a chance to be good without comparing. If you compare you will be disappointed.
Choosing to eat vegan means you will become a pro at quickly scanning labels and making substitutions. There are some areas I chose not to be so picky. I will eat french fries that have been cook in the same grease as meat products but not cooked in lard. I eat honey, but not gelatin. Whether you do or don't,  I'll leave those debates up to you. Don't be fooled, however, many obvious options are not vegan. Veggie burgers typically contain dairy. Green beans or refried beans can be cooked with meat or lard. Fried appetizers at restaurants are often battered with dairy. If you eat something that is not on "the list"out of habit, convince or ignorance…don't give up. Learn from it and do better next time.
As in recent tradition here are some options you can try at home and others while eating out.
Spaghetti Squash with Pasta Sauce – This dish has become quit popular recently. You may have already tried it.
Asparagus Primavera with Couscous – This works great if you prep your food once a week.
Cauliflower Buffalo Bites – Take 2 and Cashew Curry Cauliflower – This may seem odd, but pair with a salad or gains to complete your meal.
What we consider as ethnic restaurants here in the US are typically Mexican, Caribbean, Chinese, Indian, Ethiopian and other African style restaurants. These tend to have entire sections of their menu dedicated to veganism. Or they are able to alter their dishes to accommodate your preference. My favorite is cabbage from one of the many Caribbean island nations. I can get just the cabbage by itself as a meal!
Chili's, Applebee's, TGI Fridays, Americana, Bar Food – French fries, other fried appetizers (onion rings, pickles, green beans, cauliflower) and sauces maybe ok, must verify. Some have veggie or black bean burgers. Remember you can look up vegan options in the car or while waiting to be seated. These places typically have decent salads, minus the meat, that are very good.
Ruth Chris – I've personally never been. Enough of my friends and family go, that I would be amiss if I didn't add it to the list. I will start with a warning and say *Talk to your waiter, make it clear you are looking for vegan options* From what I can find online, you can order 3 sides as a meal. A baked potato minus the butter & sour cream seems to be a favorite of everyone. (Yes, I am fully aware that I just recommend a potato as a meal at a place that is known for their steak).
Cooper's Hawk – I was pleasantly surprised when went there to celebrate a friends birthday. There  were at least 2 vegan meals on the menu that didn't require any substitutions or alterations. This by far was one of the best tasting meals I've had outside my kitchen.
Let be real though, sometimes, you will just have to eat a salad….without dressing.
Follow me on social media for tips and ideas. Dinner 1
Week 1
Week 2
Week 3