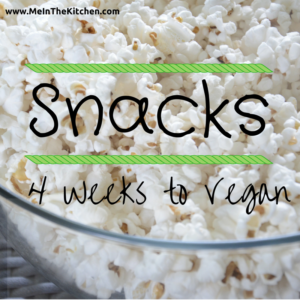 Week 2 = Breakfast + Snacks
Whelp, you did it. You made it through your 1st week. Was it as difficult as you thought? It was easy, right? During week 2  we are going to introduce another "meal" to the mix. Snacks!
How do you prefer your snacks, salty or sweet? For me it's salty, especially chips. But honestly anything crunchy will do. Snacking may require you to read a few more food labels as most of us tend to snack on prepackaged processed food. As a vegan you will have plenty of surprising options as well as fresh fruits,  veggies, nuts, popcorn or smaller versions of your meals. Follow me on social media where I'll be sharing snack ideas and food snack hauls from places you might not expect to sell vegan food.
Below are a few ideas you can make at home that I wrote about in the past. Don't make this hard. Some of your snacks are already vegan. Chips & Salsa – vegan. Oreos – yup vegan. Here's a quick list of 20 that you can find most anywhere.
You can read the all about Week 1 here , Week 3 here and Week 4 here.
Snack 1, Snack 2, Snack 3, Snack 4, Snack 5, Snack 6, Snack 7
Tagged: 4 weeks to vegan, 5 ingredients or less, black vegan, broccoli, carrots, cauliflower, clean eating, cookbook, corn, diabetic, diet, easy, going vegan, granola, guacamole, olives, organic, tasty, vegan, what the health, wth